Previously, the Flames special teams started bad and then somehow got worse. The PK and PP are two key areas that need to show some improvement to at least somewhere around the middle of the League to get into the playoffs. Sooner or later the goaltending has to stabilize to give the skaters some confidence to go out and play their game without having to worry about every single mistake ending up in the back of the net. During this segment, some of this happened and some of this did not. There was some improvement in most of the key areas for this Flames team to try and take some of the hurt off of a massive injury to a key player. Let's get started.
November 10, 2016
Game Fifteen: Home vs Dallas Stars
Loss: 4-2
0-1-0
Starter: Brian Elliott
| PDO | CF% | SCF% | SV% | SH% | PP% | PK% |
| --- | --- | --- | --- | --- | --- | --- |
| 97.47 | 57.14 | 60 | 89.47 | 8 | 0 | 66.6 |
By eye, this game was a game that the Flames should have had in the bag. The numbers back this up as well as they dominated possession and scoring chances. Ultimately, the Flames were sunk by sub par goaltending and yet another failure of a night from special teams play. The Flames by the math deserved to win this game with their even strength performance but in the end the Stars goaltender was just that much better than Elliott and the Flames start off this segment with a disappointing loss.
November 12, 2016
Game Sixteen: Home vs New York Rangers
Loss: 4-1
0-2-0
Starter: Brian Elliott
| PDO | CF% | SCF% | SV% | SH% | PP% | PK% |
| --- | --- | --- | --- | --- | --- | --- |
| 81.82 | 60 | 64.29 | 81.82 | 0 | 33.3 | 100 |
Possession? Excellent. Scoring Chances? Excellent. Special teams? Excellent. But a rare power play goal was the Flames only tally in this game as they were once again completely sunk by the play of Brian Elliott. Often times, it has been mentioned on broadcasts that when a goaltender doesn't face a lot of shots the game becomes more difficult for him. Unfortunately, when you are expected to be the starter for your team you need to make the saves that your team needs you to make in order for the team to succeed. Against the Rangers, Elliott did not provide those timely saves.
November 15, 2016
Game Seventeen: Away vs Minnesota Wild
Win: 1-0
1-2-0
Starter: Chad Johnson
| PDO | CF% | SCF% | SV% | SH% | PP% | PK% |
| --- | --- | --- | --- | --- | --- | --- |
| 100 | 39.74 | 0 | 100 | 0 | 16.6 | 100 |
After two disappointing appearances by defacto starter Brian Elliott, the Flames turned to back up Chad Johnson against the Minnesota Wild and that decision paid off big time as Johnson hosts the Flames first shut out of the season in a game where the Flames were credited by corsica.hockey with absolutely ZERO even strength scoring chances. None. One power play goal held up as the game winner in a game where the Flames were dominated in possession. The penalty kill was perfect, the power play finally did just enough to win a game for the Flames, and Chad Johnson did all the rest. Oh, by the way, that power play goal was scored by Johnny Gaudreau. Who was slashed in the hands 21 freaking times by the Wild and subsequently suffered a broken finger requiring surgery.
November 16, 2016
Game Eighteen: Home vs Arizona Coyotes
Win: 2-1 OT
2-2-0
Starter: Chad Johnson
| PDO | CF% | SCF% | SV% | SH% | PP% | PK% |
| --- | --- | --- | --- | --- | --- | --- |
| 99.38 | 68.29 | 75 | 94.12 | 5.26 | 0 | 100 |
Once again the Flames dominate in a game they deserved to win by a much larger margin, the important thing this time around is that they actually won. The power play obviously hurt them, and yes I am getting tired of saying that, but luckily Frolik was there to wire in a beauty in OT to get 2 tiebreaker points to give Johnson a well deserved second win in as many games. Mike Smith (?!) played very well, keeping the Flames off of the score sheet for the majority of the game but the magical line of Backlund/Frolik/Tkachuk scored both goals and the Flames managed to beat Smith as the rest of the Coyotes did, well, not a whole lot.
November 18, 2016
Game Nineteen: Home vs Chicago Blackhawks
Loss: 3-2
2-3-0
Starter: Chad Johnson
| PDO | CF% | SCF% | SV% | SH% | PP% | PK% |
| --- | --- | --- | --- | --- | --- | --- |
| 98.48 | 46.67 | 50 | 90.48 | 8 | 0 | 0 |
Five. Five powerplays for the Flames. Zero goals. This team single handedly, in one game, took the Blackhawks out of 30th place for the PK. Even strength wise they did well, not great, but had any one of those power palys resulted in a goal, we are looking at a completely different game. Johnson did what he needed to do and made the saves he needed to make, shot attempts were in favour of the Blackshawks by, frankly, a good margin but scoring chances remained the same for both sides. Long story short: Johnson is good, Hawks were better, special teams are terrible. (It was very difficult not to use profanity in that last sentence). In a strange scheduling quirk, the season series between these two teams is over, the Hawks take it 2 games to 1, all in regulation.
November 20, 2016
Game Twenty: Away vs Detroit Red Wings
Win: 3-2
3-3-0
Starter: Chad Johnson
| PDO | CF% | SCF% | SV% | SH% | PP% | PK% |
| --- | --- | --- | --- | --- | --- | --- |
| 103.95 | 52.94 | 70 | 90.91 | 13.04 | 0 | 100 |
It would seem that by this point, Chad Johnson has won the net despite all of the hype behind the Brian Elliott signing. Johnson is again rewarded for a strong performance by an perfect penalty kill, positive possession rates, and a dominating scoring chance percentage. The power play was, of course, another oh'fer but the team gave him a chance and that's all a goaltender can ask for. Additionally, Johnson was good at even strength and that can only help.
November 21, 2016
Game Twenty One: Away vs Buffalo Sabres
Loss: 4-2
3-4-0
Starter: Brian Elliott
| PDO | CF% | SCF% | SV% | SH% | PP% | PK% |
| --- | --- | --- | --- | --- | --- | --- |
| 95.84 | 46.59 | 53.85 | 91.97 | 4.17 | 0 | 50 |
In a back to back situation where you have two reliable goaltenders you often play one guy the first night and the other guy on the second night. In this case, I'm not entirely sure what the answer would be to solve the problem of Elliott's play. I don't want to crap on the play of Elliott because he did well, his even strength save percentage is exactly what you want from the guy in the net. The power play once again scored nothing. What sticks out to me is the PK%. Most of this is on the forwards because you can't take that many penalties in a game and expect your goaltender to bail you out every single time. What is reasonable to ask of the goaltender is that they stop more than 3 goals on 6 penalty kills. System's play appears to need a lot of work. Hopefully, in the next segment the Flames come out with a winning record.
The Segment As A Whole
| PDO | CF% | SCF% | SV% | SH% | PP% | PK% |
| --- | --- | --- | --- | --- | --- | --- |
| 96.71 | 53.1 | 53.1 | 91.25 | 5.5 | 7.13 | 73.8 |
During the course of this segment the Flames have apparently found their true starting goaltender in Chad Johnson who posted a shut out in the first game he played and then stayed steady through the rest of it. His only loss was against the Chicago Blackhawks in the same game where the Flames couldn't figure out how to score against the League's worst penalty kill despite five opportunities. From now on I expect Johnson to be this team's starter. The injury to Gaudreau is a massive blow since he was finally looking like he was going to go on a bit of a run and now he's out for 6 weeks. Those special teams have to get better if the Flames want to make the playoffs.
The Season So Far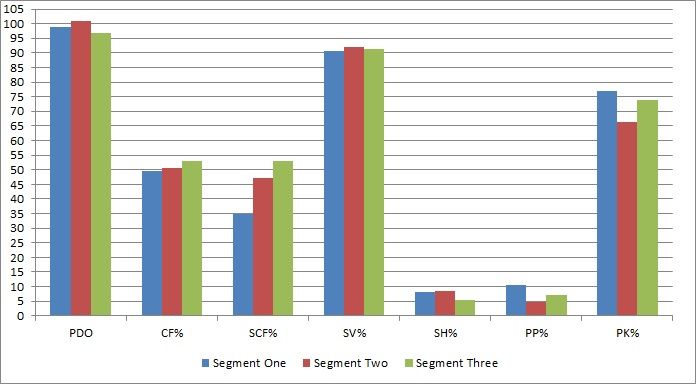 After the last segment the special teams thankfully started to rebound which is somewhat comforting despite the PP and PK still being nowhere near good enough. The shooting percentage started to falter a little bit, ending up on the south side of average for the first time this season but thankfully the save percentage stayed right where it needs to be thanks to Johnson's shut out helping to make up for whatever it was that Elliott did in New York. Possession is still rising steadily and more importantly the Scoring Chances For are also mostly in the Flames favor over this segment and the ship appears to have begun righting itself about the same time Johnson became the starter.
The Flames 28th game is at home against the Anaheim Ducks on December 4th. Best of luck to the Flames! See ya then.